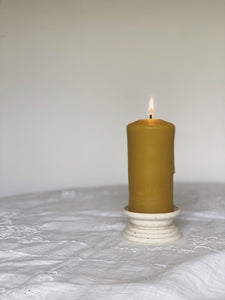 one of a kind pillar candle stick - stoneware - toi toi  - matte glaze -  New Zealand clay hand blended with volcanic sand.
dimensions - approx h 4cm - w 8cm
I recommend drizzling a little wax in the base to set the candle in place.  Beeswax pillar candles available online. 
you can place your ceramics in the dishwasher and microwave however they will last longer if hand washed. each item is made by hand individually so there may be slight imperfections or differences in size and shade. please do not expose your ceramics to thermal shock (extreme changes in temperature) 
nz clay,  nz sand,  a little piece of nz
candle not included