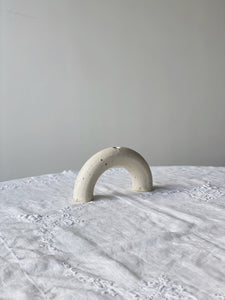 large arc vase - stoneware - toi toi -  volcanic sand speckle with matt glaze.  the arc vase you receive may differ slightly to the one pictured here.  
pls note toi toi colourway best with dried flowers as a little porous.
approx height - 10cm, 17cm wide
you can place your ceramics in the dishwasher and microwave however they will last longer if hand washed. each item is made by hand individually so there may be slight imperfections or differences in size and shade. please do not expose your ceramics to thermal shock (extreme changes in temperature) 
made from new zealand clay - new zealand sand - a little piece of new zealand.